Is this the world's first artificial reef that is also an art exhibit? Diving the Kodiak Queen wreck is sure to be on the top of many scuba divers bucket list. Read more about the marine conservation project and its GPS coordinates and location.
This is one of the last remaining WWII warships from Pearl Harbor that remain. Now it will be forever more remembered as a purpose-sunk shipwreck that has a one-of-a-kind art canvas constructed into the shape of the Kraken sea monster.
---
Diving the Kodiak Queen Wreck
The former Navy fuel barge YO-44, from WWII Pearl Harbor action, is now a purpose sunk ship wreck and underwater art site located off the coast of Virgin Gorda, BVI, in the Caribbean.
---
The dive site and experimental project was brought together by a consortium of stakeholders that included Sir Richard Branson. One of the objectives and goals of the project is to show the world that old ships and vessels can be used for purposes of advancing the quality of life for all.
Further, it is hoped that the project brings more environmental and marine conservation issues to the forefront, with solutions to improve longevity of marine species and habitat such as coral reefs.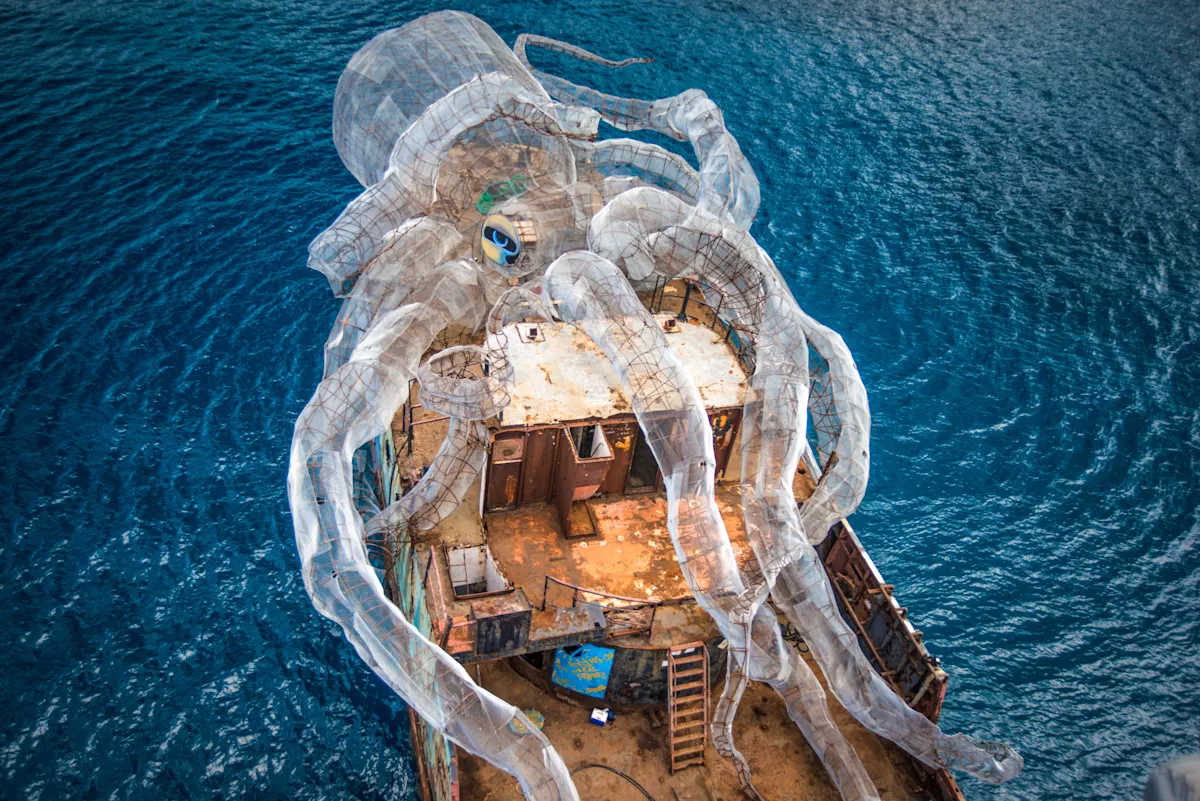 They want to show that artificial reefs can indeed be helpful to marine habitat and sea life species. Rehabilitating marine habitat, by adding more of it to the ocean floor, will hopefully increase the numbers of over-fished marine populations.
Kodiak Queen GPS Coordinates – Latitude & Longitude
Sink Location – BVI, Virgin Gorda
(DDM) 18 29.871 N, 64 24.852 W
Sunk: Spring of 2017
The BVI Art Reef
The scuttled artificial reef has a monster Kraken attached, that has tentacles up to 80 feet long wrapped around the ship.
Dive the BVI Art Reef from Beneath the Waves on Vimeo.
On April 11, a team of artists, scientists, and entrepreneurs sunk a WWII warship named the Kodiak Queen, one of the few to survive the attack on Pearl Harbor, in the British Virgin Islands to create a unique and vibrant dive site that will inspire locals and tourists alike, help rehabilitate over-fished marine populations, and serve as a platform for cutting-edge research. In her final resting place beneath the waves, the Kodiak Queen now enters a new chapter in her history: a one-of-a-kind underwater platform providing long-term solutions to ocean health problems and fostering prosperity across the Caribbean.
Introducing the BVI Art Reef
Beneath the Waves / Unite BVI Foundation / Association of Reef Keepers – ARK / Maverick1000 / The Mariani Lab / SecretSamuraiProductions / Commercial Dive Services
As you can see, this is an amazing project.
Resources:
Check out the resources to see pictures of the ship and Kraken art attached to her. Also learn more about the historic artificial reef and the noble project they have undertaken.
---
---